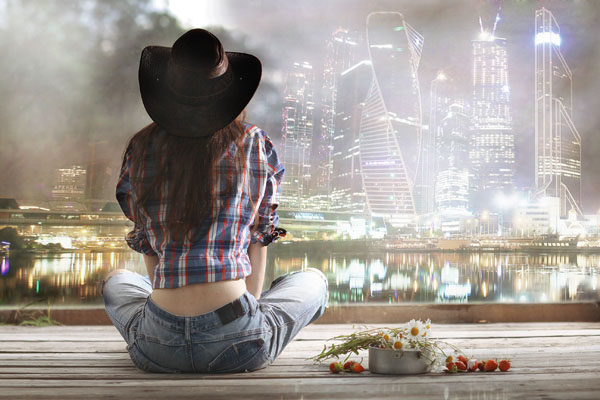 Cowgirls In Big Cities: The Dating Challenge
Over the last decade, dating seems to have become a true science. With all the TV shows, movies and social networks, people feel stressed and pressured. Every decision you make, you analyze, dissect and stress over, and at the end of the day you sometimes feel as if you keep doing the wrong thing.
People who are interested in dating a particular type of people in places where you don't meet such people every day can easily get discouraged. Let's say you are someone with certain country upbringing and you want to date someone who shares the same heritage and culture. If you happen to live in a large city where country culture is not an everyday thing, things may seem even more difficult.
For example, you might be a small town woman who moved to a big city in her 30's for a job. Before coming to this huge city, you used to live in a small town, the same one you were born in, the same one you went to school at, the same one where country culture is still valued as a way of life. Since you were a child, you were raised in certain ways, with certain values and you cherish those values. Of course, you'd like to meet a man who shares your way of life.
Living in a big city brings all kinds of changes into your life, including all the people you are going to meet, be friends with, and date. You might feel your choices and options have become very limited. It has nothing to do with you, nor does it mean your core values are wrong. It is simply the way it is. A big city has its own way of life.
Luckily, even though you might think all hope is lost, you can still find yourself a proper, decent cowboy with all the right values. No matter what city you live in, there is an elegant, interesting way for you to meet someone you truly understand and feel like home with. Don't you know there are many guys out there who feel the same as you do? Guys who were forced to move into a big city and substitute their horse rides for bus rides are looking to find a country girl, just as you are looking to find your cowboy.
Only a few years ago, it was very hard to meet such guys. You wouldn't even know where to start looking for them. Now, thankfully, there are niche dating sites, and all you need to do is register. You will find hundreds of cowboys and cowgirls living in big cities all over the world. They are all looking for the same thing you are – someone who will understand them perfectly. You don't need to go out with a candle looking for your soul mate. You can find him online. He will be from your area and you will share the same values. You will be able to have a wonderful relationship with someone who shares your values right in the middle of New York if you want to.
Online dating isn't just a thing for teenagers. It's a wonderful way to meet just the kind of people you are looking for. Luckily, the stigma around online dating is slowly fading away, and there is nothing stopping you finding the love of your life online.
Stay up to date with us on social networks
Comments
comments